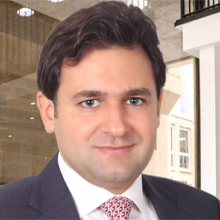 Dr. Omar Kaddouha
Director of Flight Safety
Dr. Omar R. Kaddouha is the Director Flight Safety in the Lebanese Directorate General of Civil Aviation responsible for certifying airlines, airports, UAVs and service providers. 
He graduated from Toulouse University holding a Doctorate degree of Business Administration with a focus on "Regional Aviation Institutional Cooperation Framework: Air Transport Network between Arab and European Region". He holds an Aerospace Management Master's degree from ESC Toulouse and has an extensive experience in Aviation Industry.  
Working closely with the French BEA "Bureau d'Enquête et d'Analyses pour la Sécurité de L'Aviation Civile" and the American NTSB "National Transportation Safety Board", he investigated two major accidents involving the Ethiopian B738 that crashed near Beirut and a Hawker 850 XP aircraft that crashed in Sulaimaniyah (Iraq). He has extensive experience in Search and Rescue where he received specialized training from ICAO, Lebanese Air Force, Navy Seals and Special Forces. 
Dr. Kaddouha is the ICAO National Coordinator for Lebanon and Euromed Aviation Project Coordinator and is the Airport UAS & Cyber Security Coordinator in Lebanon. 
SPEAKER SESSION
Virtual Conference Agenda 2020
25 November 2020 | 12:50 - 13:10 | The Ultimate Challenge: Leading Lebanon's cyber security amidst the ongoing challenges
Given the COVID 19 challenges, severe economic recession, overpowering monetary and political crisis, and the devastating semi-atomic explosion of Beirut Harbour, how can experts ensure that their cyber security is on point? Come find out through this presentation by Dr. Omar Kaddouha.