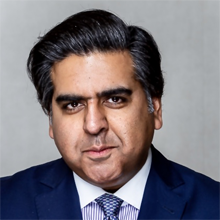 Kashif Khalid
Regional Director - Africa & Middle East, Airports, Passenger, Cargo, Security & Facilitation
Kashif Khalid is Regional Director – Africa & Middle East for the International Air Transport Association (IATA) providing leadership and subject matter expertise to Airlines, Airports, ANSP's, Civil Aviation Authorities, Security Agencies and Governments to further progress IATA's mission, projects, business development and industry advocacy positions.
Formerly he was Head of Assets & Acquisitions at Abu Dhabi Airports, leading the Global M&A function for the Abu Dhabi Government entity as well as the development, innovation, sustainability, and operations strategy of the Airports portfolio. Which included multi-billion-dollar infrastructure investments and capacity enhancement programs, including Abu Dhabi's crowning jewel, the iconic Midfield Terminal Building (MTB). 
He has advised global Governments and Airport Investors/Operators on both Greenfield and brownfield development projects, privatizations, public private partnerships in airports and associated infrastructure projects and concessions.
Earlier on in his professional career he has had the privilege of holding several senior executive positions with Dubai Government, Abu Dhabi Government, Citi and British Airways. 
Kashif graduated Magna Cum Laude from New York in International Business & Economics and holds an MS-IB as well. His professional credentials include an advanced degree in Airport Planning and Finance, IAP – International Airports Professional and the ACI - Airport Executive Leadership program (AELP). He is also a Member of the Royal Aeronautical Society (MRAeS)
SPEAKER SESSION
Global Aerospace Summit Agenda
25 May 2022 | 14:25 | Building Sustainable Airport Hubs
How will future airport hubs be designed and operate. How must infrastructure be developed to support sustainable aviation fuel and new forms of propulsion? As aircraft design develops rapidly how can airports innovate to capitalise on new fleets and opportunities? How are airports integrating digital tech to drive efficiency and enhance customer experience? What is the role of airports in urban air mobility?
MODERATOR SESSION
Virtual Conference Agenda 2020
25 November 2020 | 10:15 - 10:50 | Panel Discussion: Regulatory update and what's coming next?
As the aviation industry continues to battle with the impact of COVID -19, cyber risks to some of the industry's critical assets have continued to evolve and increase. ICAO and IATA have both been continuously working towards developing industry wide cyber security strategies in order to build resilience within the aviation sector.  What are some of the new standards and policies coming up? Join us for this interactive session to get all the regulatory updates about cyber securing the aviation eco system.