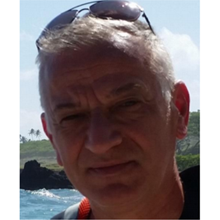 Aharon David
Chief WHO (White Hat Officer)
Aharon David is a co-founder and partner of AFUZION-InfoSec, a global services, consulting, and training company specializing in aviation cyber-security certification. He is also a speaker and trainer on aviation cyber-security certification for organizations such as SAE International, AIAA, IEEE, Aerospace-TechWeek, and others. He is a member of all U.S. and European standard-making committees for aviation safety-critical electronic systems, cyber-security, artificial intelligence (AI), and unmanned aircraft systems (UAS), including – SAE's S18, G32, G34 and others; RTCA's SC-216, 224, 228 and others ; EUROCAE's WG-72, WG-105, WG-114 and others; multiple ASTM committees.
Recently, he published SAE's EDGE RR "Unsettled Topics Concerning Airworthiness Cybersecurity Regulation".
For the last decade, he has been an advisor to Israeli government authorities, such as the Civilian Air Authority of Israel (CAAI) – on subject matters such as UAS, avionics software, cyber security, and more.
As an aerospace engineer and an Information-Systems/Technology-Management MBA with nearly four decades of hands-on engineering management and executive experience with the Israeli Air Force (IAF), Israeli Ministry of Defense (MoD), CAAI and others – he held such positions as the commander of the IAF's Avionics & Control Software Centre (ACSC) and head of the Israeli Missile Defense Organization's(IMDO) System Engineering & Interoperability Department – among others.
He combines perspectives from technology, business, management of large organizations, civilian and defense, and passenger and UAS aviation development and certification.
SPEAKER SESSION
Virtual Conference Agenda 2020
25 November 2020 | 14:05 - 14:35 | From theory to practice - How to comply with the evolving cyber regulation for aviation
More information to follow.