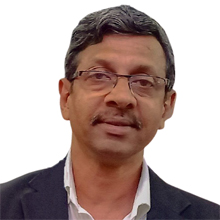 Brian Pereira
Principal Editor
Brian Pereira has been writing on business technology for the past 26 years. He is a certified technology professional who reports on business technology trends. Brian is currently the Principal Editor of CISO MAG, which is owned and published by the EC-Council. He also blogs at DIGITAL CREED.
Twitter: @brian9p
SPEAKER SESSIONS
MODERATOR SESSION
Virtual Conference Agenda 2020
25 November 2020 | 15:50 - 16:40 | Panel Discussion: Data security – absolutely critical for takeoff!
The top cyber threats affecting the airline industry are those that can cause mass disruption, steal employee and customer data, and invade networks to scale attacks. From ransomware attacks, APTs, phishing attacks, DDoS to Insider threats, the aviation industry is battling it all! Attend this session to find out about some of the latest technological innovations that help protect sensitive data.