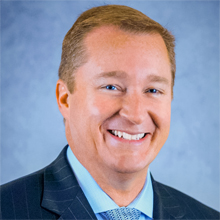 Brian Cobb
Chief Innovation Officer
Cincinnati / Northern Kentucky International Airport (CVG) - US
Brian is a native Cincinnatian and a graduate of Embry-Riddle Aeronautical University, having received his bachelors degree in Aeronautical Science and holding commercial pilot and flight instructor licenses and associated aircraft ratings. He received Airport Council International's "International Airport Professional (IAP)" designation in 2013. He has over 29 years of aviation experience, working in both airline and airport sectors.
Brian joined CVG Airport in July 2010. He now oversees the Airport's team of professionals working in the fields of Customer Experience and Terminal Services, Information Technology, and Innovation programming. His deliverables include the creation of strategic competitive and experience advantages through effective facilitation and acquisition of talent and technology. The surrounding Region's status relies heavily upon CVG Airport's transportation advocacy, influence, economic excellence and service superiority.
Among his key focal points are start-up innovations and integration into the airport ecosystem. 
Recent CVG wins include: 
fastest growing airport in the U.S. for both passenger and cargo volume
the only US airport with two cargo hub operations (Amazon's Prime Air and DHL)
winning Airports Council International's Best Airport North America 5-15 million passengers 
winning Skytrax awards for airport quality and/or service seven out of the last eight years
winning Air Cargo World's award for Best Airport 
developing a unique model of innovation for non-traditional streams of revenue and to further CVG's position as an industry disruptor and outside industry influencer
first domestic U.S. airport to

deploy autonomous equipment for cleaning and disinfection measures
deploy wearable technology for enterprise asset management, safety, and security
deploy IoT devices for monitoring and engaging with employees and customers
deploy cloud-based passenger check-in technology allowing check-in processes anywhere
use interior drone photography for advanced wayfinding purposes
trial advance personal electric vehicles for passengers with reduced mobility

creation of the Leading Individuals Forward Together (LIFT), a social engagement model for airport staff and disabilities organizations, in partnership with Cincinnati Children's Hospital
collaborative curation opportunity with massive scale, in-airport museum displays courtesy of the Cincinnati Museum Center
Brian resides in Northern Kentucky with his wife Tracy. They have four children ranging in ages from late teen to twenties. His current community engagement is to connect the start-up ecosystem to Universities and small/medium/large cap businesses while leveraging CVG as a living laboratory. Universities bring to the table a qualified talent pipeline as well as much needed research and development to validate product theory. CVG's collaborative businesses partners trial the product viability, practicality, and commoditization potential.  With nearly every venture build, Brian remains committed and passionate about business-to-social embrace of disabilities and consumer engagement modeling through emerging technology.
PANELISTS SESSION
Virtual Conference Agenda 2020
25 November 2020 | 11:10 - 12:10 | C-level Interview Session: Protecting aviation from hackers: Improving resilience during and post COVID-19
The introduction of remote working for staff and various touchless interfaces for passenger travel have exposed airports and airlines to a new set of cyber threats. What are some of the ways to mitigate these threats? Are airports and airlines prepared for cyber threats post COVID-19? What should the cybersecurity priorities be now and after the pandemic? What are companies doing to improve cyber resilience and ensure business continuity.
SPEAKER SESSION
Virtual Conference Agenda 2020
25 November 2020 | 17:35 - 18:05 | Case Study: Remaining a step ahead in Aviation's arms race against cyber-terrorism
Listen in as Cincinnati/Northern Kentucky International's (IATA: CVG) CIO outlines best-in-class protections against cyber threats. On a recent day, CVG logged nearly 450000 threats from 10 different nation-states. CVG dispels the 'isolation is the best protection' myth to take on a preeminent role in research and development along with advancing protective deployments around its campus.