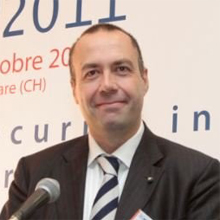 Francesco Di Maio
Head, Security Department
Aged 51, Francesco early graduated in Law cum laude at State University "Federico II" in Naples (1988), PhD in Civil Law (2003), he joined as Lieutenant of the Italian Carabinieri Corps (1989-1990) then Superior Officer of the Italian State Police, applied mainly to criminal investigations and intelligence in the field of Drug Enforcement and High Tech Crimes and local Police commissioner.
In 2004 he was hired in ENAV, the Italian Air Navigation Service Provider, with the role of CSO, CISO, Security Post-Holder for the purpose of the Single European Sky, Liaison Officer for Critical Infrastructure Protection.
Qualifications:
Italian and NATO CIMIC (2005); Italian MoD High Studies Diploma (2006); ICAO AVSEC PMC (2006), ECAC AVSEC PMC (2009), ICAO National AVSEC Inspector (2012) , ICAO (2011) and Italian AVSEC instructor (2007); Certified Senior Security Manager UNI 10459:2015. He represents the Italian Republic at NATO CEPC Transport Group; Italian Rep at NEASCOG and observer to ICAO HQ and Regional AVSEC bodies; Member of Italian National AVSEC Committee. Chair of CANSO ATS Security WG and member of RPAS TF at Italian Ministry of Interior.
PANELISTS SESSION
Virtual Conference Agenda 2020
25 November 2020 | 15:15 - 15:50 | Panel Discussion: Everyone on the same page: Convergence of cyber security and aviation security
As the aviation security sector increases its dependence on networks and IT technologies, this session will highlight the importance of integrating cyber security within aviation security strategies. Hear about some of the most challenging cyber security risks to airline operation systems, on board systems, aviation security processes and learn how these can be mitigated.
SPEAKER SESSION