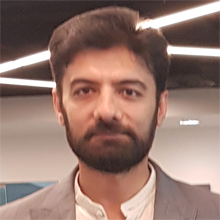 Farhan Imtiaz
Cyber Security Technical Service Manager
Farhan Imtiaz works for Dimension Data/Nippon Telegraph and Telephone (NTT) as a cybersecurity manager and looks after the Middle East region's consulting and technical services division. He has more than 15 years of experience in cybersecurity and technology consulting, solutions, services, security operation centers, support, and managed services.
SPEAKER SESSION
Virtual Conference Agenda 2020
25 November 2020 | 10:50 - 11:10 | How to counter the significant cybersecurity threats to the Aviation Industry
In my presentation, I will talk about the size and the economy of the global aviation industry and why a healthy, secure, and vibrant aviation is significant to regional matters and economic growth. I will present the digital evolution, major cyber threat, aviation attack vectors, cyber aviation events that made the news headlines, IT/OT convergence, and the cyber-physical challenge to aviation. I will continue by presenting further on what to focus on and how dimension data can help your cybersecurity evolution journey. Lastly, I will show a use case that we successfully delivered for an important client in the aviation industry.