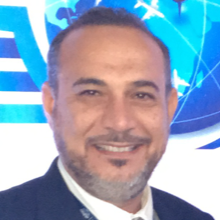 Fahad Alanzi
Civil Aviation Security Director
Civil Aviation Security Director at Kuwait DGCA. Thirty years of aviation experience, twenty-five of them with the industry; Kuwait airways and Amiri fleet, and five years with the local authority; DGCA.
Graduated as an Aircraft Maintenance Engineer from AST in Scotland, hold both B1/B2 licenses and approved engineer in B-747-200/400/800, A310, A320, A319, A340, and Gulfstream GV/G550. Attended many specialized, technical, and management courses locally and internationally in manufacturers (Boing, Gulfstream, and Airbus). And in universities (Embry riddle and cranfield university).
Started my carrier at the Airline as a trainee Engineer in 1988 and retired in 2013 as a Amiri fleet section Superintendent.
Later Joined Kuwait DGCA Aviation Safety Department in 2014 at Airworthiness Section and worked as Airworthiness inspector, then appointed as head of aerodrome certification and security, while heading the division I also performed the function of Aviation Security Inspector and Aerodrome Inspector.
In 2018 a new Civil Aviation Security department was established and I was promoted as a director same time hold the position of state National Coordinator with the ICAO.
Currently fully engaged with Aviation Security matters and held the chairperson of SECFAL PDG. And at present the chairperson of Regional Aviation Security and facilitation Group RASFG.
PANELISTS SESSION
Virtual Conference Agenda 2020
25 November 2020 | 10:15 - 10:50 | Panel Discussion: Regulatory update and what's coming next?
As the aviation industry continues to battle with the impact of COVID -19, cyber risks to some of the industry's critical assets have continued to evolve and increase. ICAO and IATA have both been continuously working towards developing industry wide cyber security strategies in order to build resilience within the aviation sector.  What are some of the new standards and policies coming up? Join us for this interactive session to get all the regulatory updates about cyber securing the aviation eco system.