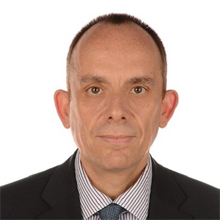 Juan Anton Bernalte
Cybersecurity in Aviation & Emerging Risks Section Manager
Currently the Cybersecurity in Aviation & Emerging Risks Section Manager at European Aviation Safety Agency (EASA), Juan has over 24+ years of experience in the aviation industry with the last 10 years being within EASA as Rulemaking Continuing Airworthiness Manager (responsible for regulations Part-M, Part-145, Part-66 and Part-147).
PANELISTS SESSION
Virtual Conference Agenda 2020
25 November 2020 | 10:15 - 10:50 | Panel Discussion: Regulatory update and what's coming next?
As the aviation industry continues to battle with the impact of COVID -19, cyber risks to some of the industry's critical assets have continued to evolve and increase. ICAO and IATA have both been continuously working towards developing industry wide cyber security strategies in order to build resilience within the aviation sector.  What are some of the new standards and policies coming up? Join us for this interactive session to get all the regulatory updates about cyber securing the aviation eco system.
SPEAKER SESSION
Virtual Conference Agenda 2020
25 November 2020 | 16:40 - 17:15 | A comprehensive cyber defense strategy: addressing cybersecurity risks at product, organizational and national oversight level
Addressing the cybersecurity risks faced by the international aviation community requires a system-of-systems approach covering all the aviation domains. Furthermore, it requires to take into consideration not only the aircraft design aspects, but also the need to manage cybersecurity risks at organizational level, as well as ensuring adequate oversight by the corresponding competent authorities. All of this while ensuring adequate coordination at national level between the different authorities responsible for security, cybersecurity and aviation safety.