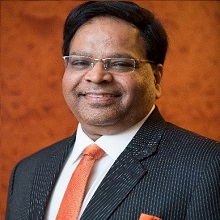 Rahul Shah
Senior Vice President Strategic Growth and Business Development Asia Pacific, Middle East and Africa
SPEAKER SESSION
Global Aerospace Summit Agenda
25 May 2022 | 16:40 | Digital technology in MRO - Sponsored by SAEI
How are digital twins enabling airlines to bridge the gap between the physical and the digital worlds? What is the impact of digital twins on the aerospace and MRO sectors? What is the adoption curve, and how will proactive and predictive maintenance increase platform operational availability and efficiency?
MODERATOR SESSION
Global Aerospace Summit Agenda
25 May 2022 | 16:00 | Transforming supply chains to resilient and dynamic networks
How is the aerospace supply chain reshaping to meet global logistics challenges? How are technologies being implemented to enable future resilience to global shocks and more rapid responsiveness to supply chain pressures?