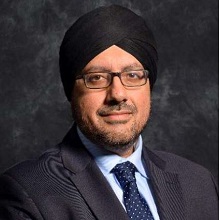 Kuljit Ghata Aura
President, Boeing Middle East, Turkey and Africa
SPEAKER SESSIONS
Global Aerospace Summit Agenda
24 May 2022 | 11:30 | The future fleet - developing aircraft to support long-term growth
What are the platforms required for the reshaped fleets of the future? Is sustainability the primary driving factor in future platform designs?  How are we developing radically new aircraft and propulsion technology and accelerating technologies that will enable the 'third generation' of aviation?  What are the regulatory challenges?
Global Aerospace Summit Agenda
26 May 2022 | 14:30 | NextGen Industry Leaders Panel & Networking in collaboration with AmCham
The benefits of working in the aerospace industry. What are the opportunities for young people? A panel of C-level executives who address the benefits of working in the aerospace industry, inspiring stories to share existing possibilities of pursuing internships or mentorship in multinational companies. Is there anything that could be done to assist progression of young people's career paths?