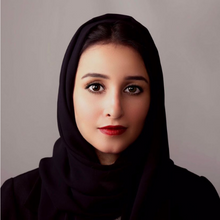 Sumaya Al Hajery
AI and Space Economic Regulation Expert
Sumaya Al Hajeri is professional in the field of Technology, Telecommunication and Outer Space regulations with 14 years of experience. She is currently heading the Governance and Data section at the Minister Office of AI, Digital Economy and Remote Work Application. She was assigned the responsibilities of implementing the AI National Strategy through rolling out a number of policies, strategies and initiatives, the most notable are: Federal Law No (44) on the Establishment of the UAE Data Office and the Federal Law No (45) regarding the Personal Data Protection Law. Moreover, she was the Head of Space Policies and Regulations at the UAE Space Agency and contributed towards achieving several projects such as: the UAE participation at the UN Committee of the Peaceful Uses of Outer Space (COPUOS) and the UN Office of Outer Space Affairs, the Federal law No (12) of 2019 regarding the regulation of the UAE Space Sector and other related strategies and policies.
Sumaya has a number of professional and academic contributions in the field of: Competition regulations, competitiveness, Industry and Technology Cluster Policies, Smart Specialization Policies, Microeconomic Cluster Mapping tool, women in ICT as part of the ITU agenda, Women in Space as part of the UNOOSA agenda, increasing Emirati women participation in the workforce, Space Policies and Strategies. 
SPEAKER SESSIONS
Global Aerospace Summit Agenda
24 May 2022 | 15:20 | DATA DRIVEN DEFENCE TECH - WHERE WILL THE MONEY BE SPENT AND WHAT TECHNOLOGIES ARE THE FUTURE?
What are the technologies that will change defence platforms? How can OEMs and local partners push continuous innovation and capability enhancement? What are the data and intelligence solutions that will enhance long-term capabilities? What are the challenges to implementation on existing platforms?
Global Aerospace Summit Agenda
26 May 2022 | 14:00 | NextGen: Skills shortages
Technology is often highlighted by industry leadership as the future and the smart choice for upcoming talent. Associated skills related to machine learning, cyber, artificial intelligence, autonomous systems, data science and hypersonics have also been identified as skills in high demand. How are industry and academia ensuring sufficient technical talent is generated? How is the government involved in that process?