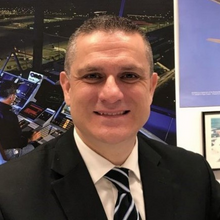 Roberto Sabatini
Professor of Aerospace Engineering
SPEAKER SESSIONS
Global Aerospace Summit Agenda
25 May 2022 | 09:20 | Defining policies for R&D investment, emerging technologies, and IP localisation to encourage innovation
How can research initiatives be managed to avoid duplication? How are local entities ensuring focus on R&D investment, emerging technologies, and IP localisation in ways that encourage innovation? How can national policies ensure value is captured  and retained from new tech and R&D?
Global Aerospace Summit Agenda
26 May 2022 | 09:50 | Digital Space
How are organisations in the space sector combining multiple digital technologies such as Cloud, Machine Learning, and Blockchain to build a meaningful competitive advantage? How are the upstream and downstream segments being affected, and how are the technologies supporting more scalable and innovative business models that are democratizing access to the space sector?