02 October 2019
IMPACT OF MERGERS AND ACQUISITIONS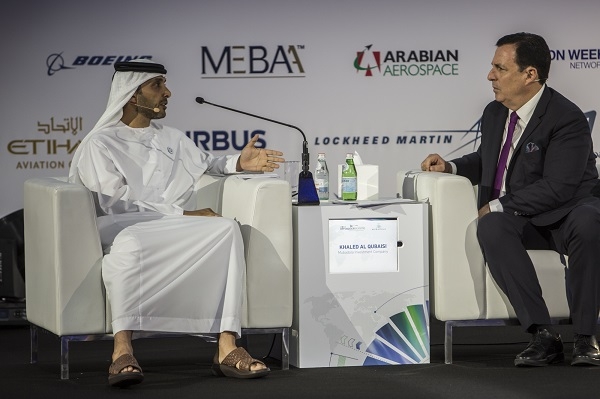 Click on image to download high resolution version
Impact of mergers and acquisitions within aerospace to form key focus area at Global Aerospace Summit 2020
Abu Dhabi to once again welcome international aviation, aerospace and space leaders for fifth edition of the premier thought leadership forum
18 September 2019 - Abu Dhabi, United Arab Emirates:
Megadeals, mergers and acquisitions (M&A) and vertical integration within aerospace, aviation, space and defence will be some of the main points of debate at the Global Aerospace Summit 2020. One of the world's leading thought leadership forums for these pivotal industries will return to the UAE capital from 17 to 19 March 2020, welcoming more than 1,000 of the world's aviation and aerospace leaders for an invite only, exclusive event.
The value of M&As in the aerospace and defence sectors worldwide reached $57.8 billion in 2018. The deal value last year was 83 percent higher than the ten year average and the third largest in history.[1]
According to research by Deloitte, M&A activity in aerospace today focuses more on acquisitions that deliver new products and offer expansion into markets such as Asia, the Middle East, and beyond.
The study also showed that consolidation among original equipment manufacturers has given rise to several major players with the resources to pursue forceful and expansive M&A strategies. Aerospace and defence company investment in emerging technologies has also introduced competition from adjacent industries, such as software.
This will be one of many topics that will be addressed at Global Aerospace Summit 2020, an event that will have the overall theme of insight and integration. The Summit will look at how data driven insight and digital transformation will enable aerospace to identify new opportunities and anticipate challenges. It will also look at how this knowledge will be harnessed to drive performance, enable smarter innovation and ensure secure, sustainable integrated partnerships.
Khaled Abdulla Al Qubaisi, CEO of Aerospace, Renewables and ICT at Mubadala Investment Company commented: "The Global Aerospace Summit is a unique opportunity for the regional aerospace sector to showcase its capabilities and programmes alongside international partners and to demonstrate combined vision. The event creates a platform for the development of strong collaboration, as well as the chance to discover and promote mutual interests in the defence, space and aerospace sectors to a global audience. The Summit will showcase why the region is a center for incubation and innovative ideas to global stakeholders."
Nicholas Webb, Managing Director, SMG commented: "The Global Aerospace Summit 2020 will once again create a platform for debate and the development of new approaches for the aviation, space, aerospace and defence sectors. We will analyse the demand for fuel-efficient, cost-efficient, right-sized aircraft for intra-regional routes; assess trends in the development of artificial intelligence technologies as well as look at the potential use of satellite technology for aviation. These are just some of the central areas that will be debated and taken forward as we prepare to welcome the world's industry leaders once again to the UAE capital."
The international thought leadership forum will be hosted by Mubadala Investment Company for the fifth time in Abu Dhabi and is organised by Streamline Marketing Group. It will take place on 17-19 March.
For international aerospace speakers interested in speaking at the event, please contact us via: http://aerospacesummit.com/contact-us/
ENDS