WELCOME TO
GLOBAL AEROSPACE SUMMIT
The Global Aerospace Summit, hosted by Mubadala, returns to the UAE as the most elite gathering of leaders from the aerospace, defence, aviation and space industries from the 24 - 26 May 2022.
Now in its 6th edition, the Summit will connect thousands of aerospace industry leaders across regions and organizations and gain strategic perspectives on the state of the industry and opportunities from global expert practitioners and like-minded peers.
From discovering the key technology trends to use-cases of sustainability initiatives and gaining practical insights to boost your safety measures, the Global Aerospace Summit is where industry-defining dialogue take place and the only event you need to attend this year to accelerate recovery and lead your business to growth.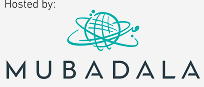 DIGITAL DRIVEN RESURGENCE
The Global Aerospace Summit is an exclusive, invitation only gathering of 1,000 aerospace industry leaders gathered to promote partnerships, business opportunities and cooperative development in the global aerospace sector. Bringing together the aerospace, space, defence and aviation sectors the Summit is a strategic leadership platform that is focused on enabling business and sector growth.
The Summit gives attendees top level dialogue and access, connecting organisations and individuals who can have a direct, positive impact on business performance across the aerospace, defence, aviation and space industries. While attending you will take an active role in a comprehensive programme of conferences and task forces. The Summit delivers thought leadership and strategic vision driven by industry decision makers.
GLOBAL AEROSPACE SUMMIT THEMES
Renewal - How is the aerospace sector changing business model to adapt to the post COVID business environment?

Opportunities – How have technology adaptations and a new market landscape opened new channels for growth in the sector?

Parallel industries – What can high technology , knowledge driven sectors learn from each other, and what are the opportunities for collaboration and partnership?

Digital – Where is the digital revolution having the biggest impact and how can you accelerate your implementation programmes?

Security – How can stakeholders ensure their assets remain protected in a digital world?
GLOBAL AEROSPACE SUMMIT ADVISORY BOARD
The Global Aerospace Summit Advisory Board is an exclusive group of established industry leaders in the aerospace, defence, aviation and space industries. These experts develop and shape the content programme to ensure the Summit is an effective industry platform for global entities to identify new partnership and investment opportunities in the UAE, and to generate new ideas surrounding aviation, aerospace, defence and space.
Influential Speakers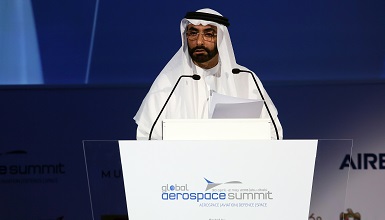 H.E. Mohammed Ahmed Albowardi Alfalacy
Minister of State for Defence Affairs
United Arab Emirates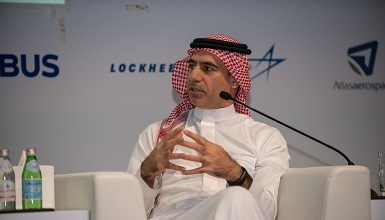 H.E. Walid Abukhaled
        Chief Executive Officer                     
Saudi Arabian Military Industries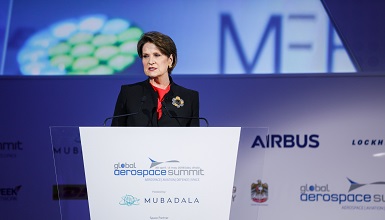 Marillyn Hewson
Chairman, President & Chief Executive Officer (Former)
Lockheed Martin